Thomas William Hay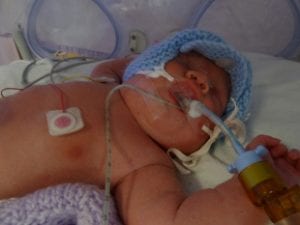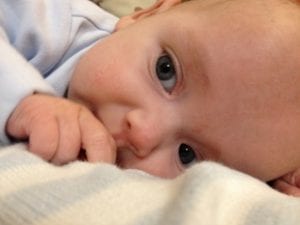 Our world was turned upside down on the 18th April 2011.  I had been looking forward to my 20 week scan for months and we left our two very excited kids at home with Granny, both of them desperate to find out whether they were to have a baby brother or sister.
I knew there was something wrong as soon as the sonographer started looking.  She was unusually quiet and had such a serious look on her face.  Then came the words that will haunt me for the rest of my life "What I am seeing is not quite what I should be seeing".   We were utterly devastated at the news and at that point our lives changed forever.  The worst day of my life was going home from this scan to tell my two children that doctors did not know whether their baby brother would be strong enough to live when he was born, it broke my heart to do that but I never had any doubt about being honest with them.  We then had scan after scan and we soon found out that his chances of survival were on the low side as he has left sided hernia and his liver was up.  We arranged to go to Kings College where we were very bluntly told he would almost definitely die at birth as his LHR was so low.  We were told we had three options; 1) Have an abortion 2) Carry on with the pregnancy, give birth and then plan a funeral 3) Have FETO surgery and increase his chances of survival to 50%.  It was as honest and as blunt as that.   There was no decision to make in our minds, we had no options and had to give the FETO a go, despite all the hugerisks involved that we were made well aware of.  An hour later I was on the operating table and 20 mins later it was all done.  2 weeks later I was admitted to hospital as my waters had broken, as a result of the FETO procedure.  I thought it was all over, but I stayed in hospital for 11 weeks after which I was induced at 37 weeks.  By this point the baby's LHR had gone from 0.6 to 2.8  Thomas was born after a long labour and immediately intubated before our eyes.  He had his hernia repaired 2 days later.  The surgeon said it was the largest hernia he had ever operated on, he had a patch made of gortex and also some of his stomach muscle was used to try to mend the hole. Basically he was missing the whole of the left side of his diaphragm. Thomas made good progress and after a week they tried to turn the pressure down in his ventilator.  It was then that it was realised he had other serious problems.  Thomas was suffering from tracheomalacia. Without the pressures of the ventilator his trachea was collapsing in on itself. There was no way he could be extubated.  After discussions with Great Ormond Street it was decided that Thomas should have a dissolvable stent fitted to hold his trachea open.  The idea was that by the time the stent dissolved, in about 12 weeks, Thomas' trachea would have strengthened itself and he would no longer need any breathing support.  This, however, was only an idea.  It was an experimental operation and had only been performed on five other babies in the whole of the UK. Thomas was discharged from hospital about 6 weeks after having this done, but during that 6 weeks he was urgently intubated twice.
We could not believe it when we finally got him home, I had never imagined that the day would ever ever come.  But after 6 days at home Thomas started breathing very fast and we took him to our local hospital.  He was intubated and taken back to Alder Hey. He had septicaemia and a chest infection.  After about a month in hospital he was discharged again….after 36 hours at home we were back in our local hospital and Thomas was being urgently intubated again.  He was taken back to Alder Hey where they discovered he had a cold!   The other huge problem was that his stent had also dissolved and his trachea was collapsing again, they also discovered at this point that he had quite serious bronchomalacia.  Tracheostomies were discussed which I found a really daunting prospect.  After a lot of discussions the decision was made to fit another stent.  Great Ormond Street said that the first stent had made a slight difference but they hoped the second would work better.  After another 6 weeks in hospital Thomas was discharged again and we were home just in time for new year.  As a family we begun to get used to life at home and settled in to a few routines.  After almost 4 weeks we recognised the signs again in
Thomas' breathing and knew we had to get him to hospital.  He had croup and a chest infection.  That brings us to today, when I am sitting staring at my son in a hospital cot, again.  This time he has managed to avoid being intubated and has stayed in our local hospital. He was on CPAP for several days and then Optiflow.  He has now come off of everything and is so far doing well, apart from a tummy bug. We now have to wait to see what happens when his second stent dissolves.  No-one can really guess.  What we do know is that we will probably have years and years of scares and hospital visits.
It has been a long, hard, emotional and completely traumatic journey with many ups and downs.  After my 20 week scan I convinced myself I was going to lose my baby, I did not allow myself to look to the future as it hurt so much.  I literally blanked it all out.  I could not bring myself to decorate the nursery or buy clothes or equipment for the baby, I guess everyone deals with these things differently. The only thing I bought was a blanket, whatever happened I wanted to wrap my baby up and hold him in his own blanket.  Never did I imaginethat at almost 6 months old he would still be being wrapped in that blanket.
Now, despite his tracheomalacia and his bronchomalacia when he is 100% fit an healthy he can cope, he even coped for 2 weeks without a stent in place (much to everyones surprise!). But as soon as he gets any kind of infection, even something as simple as a cold, he just can't cope and requires breathing support.  They are hoping that this will
improve as he gets older and stronger, but for now our chances of keeping him germ free and away from hospitals are fairly slim!
Despite it all we know we are truly blessed to be able to hold Thomas in our arms and take him home to his brother and sister who love him to bits.  Life will never ever be the same again but I know for sure that miracles do happen and I believe Thomas is one of them.